Events >> Medica 2017, Düsseldorf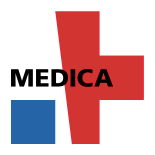 MEDICA trade-fair, the event with the highest degree of international impact, proved once again to be unique: an extensive exhibition with an ambitious scientific program which together presented the entire spectrum of innovations for outpatient and clinical care.

From 13 to 16 November 2017, MEDICA fair welcomed in Dusseldorf, within its 17 exhibiting halls, a number of 123,500 top decision makers, experts and professional visitors from over 130 countries around the world. All of them could see, touch and test a huge breadth of innovations and last generation equipment for the supplier market in the medical technology industry. A large proportion of the 5,100 exhibitors came from abroad Germany, from 66 countries, presenting innovations covering all the needs for the outpatient and inpatient care sectors.

EYECON MEDICAL, due to our permanent attention paid to new trends on the market and our consistent search for the best partners that can enhance our portfolio, was present at MEDICA trade-fair, as in every year. Our managing stuff spent four whole days meeting new potential partners, as well as our distinguished established partners, renowned producers with which EYECON MEDICAL is developing, in Romania and also in the Republic of Moldova, plenty of successful projects in the public and private health sector.

This tradition of our company to visit MEDICA every year assures us, and also our partners and our clients, that EYECON MEDICAL's portfolio always includes the latest versions of medical equipment, the most advanced devices and the best technical solutions.