Events >> The National Conference of Neonatology Iasi 2017
The 19th edition of the National Conference of Neonatology was organised this year between 21-23 of September in Iasi, the main theme being a challenging and sensitive, but also of great interest subject, namely Neonatal infections.
The scientific sessions took place at the Palace of Cuture, the cultural heart of Iasi. There, the participant specialists from our country and also from abroad, physicians and nurses, through their scientific contributions and also practical experience, aimed to establish efficient guides and treatments in order to obtain the best results possible in the fight with neonatal infections.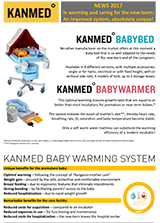 EYECON MEDICAL has brough in front of the specialists a part of the equipment for neonatology from its portfolio, consisting of the latest technologies and devices for this specialty.

The KANMED Warming System with warm water mattress is a system specially designed for the premature new-born and it is successfully used in hospitals from all over the world. The system works on the principle of "mother cangaroo care" and recreates the characteristics of the natural environment in which the new-born is developing at the best parameters. The clinical studies showed the efficacy that the KANMED Warming System has in warming, maintainig the optimal temperature and ensuring high growth rate, which is equivalent to reduced hospitalisation time and care costs, together with considerably emotional benefits for mother and child.

Kanmed Baby Bed
Kanmed Baby Warmer