ANAESTHESIA WORKSTATION + MONITOR MORPHEUS M
Manufacturer: Siare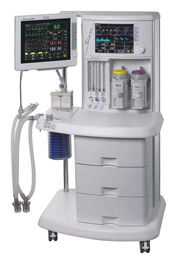 Anaesthesia workstation + Ventilator

Anaesthesia workstation for adults, children and new born babies.
Suitable for administration of Oxygen - Air - Nitrous Oxide - Halothane - Enflurane - Isoflurane - Sevoflurane - Desflurane mixtures.

Configuration:
Structure: light aluminium alloy and plastic moulds
Pivoting antistatic wheels, diameter 100 mm (2 with brakes)
3 full extension drawers
2 vertical cylinders supports (for cylinders up to 10 litres capacity) and round rubber pads
Mechanical gas mixing system at 3 gas and 5 rotameters (Air, O2, N2O)
Vaporizor: Sevofluran
Monitoring and control valves module, also top special CO2 absorber canister of 1 Kg with rapid connection: this allows canister replacement also during interventions (the canister is autoclavable and reusable)
Support for the rapid connection of two vaporizers
Electronic ventilator with 12" TFT color display, high resolution
Patient circuit for automatic and manual ventilation (MAN, AUT)
Kit for manual ventilation
Ventilation modalities: MANUAL, VC-VAV, APCV, SPONT, SIMV+PS (volumetric), PCV-TV, PSV, APNOEA BACK-UP
Alarms: low / high O2 concentration; low / high breathing rate; low / high airways pressure; low / high Tidal volume; apnoea; disconnected patient circuit; low battery; power supply; medical gases
Flow sensor, sterilizable and reusable
Memory: up to 100 events, including alarms
Power supply: 100 ÷ 240Vac / 45 ÷ 60 Hz
Back-up battery: autonomy approx. 120 min, charging approx. 10 h.
Patient monitor - NEPTUNE 15

Characteristics:
Patient monitor with 15" TFT colour display 800 x 600
Monitored parameters: ECG/RESP - NIBP -SPO2 Masimo - 2TEMP - 2IBP
ST-segment and arrhytmia analysis
Printer 2 channels
Internal battery
CO2 sensor.