TINY - CRADLE FOR NEW-BORN, Code 9CU0100
Manufacturer: Favero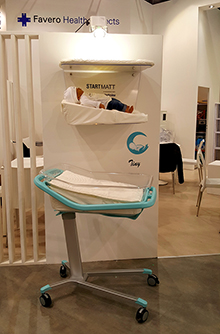 Launched at Medica Fair, Düsseldorf 2017

TINY is the new model of baby cradle by FAVERO, more practical and more elegant, with adjustable height and improved design.

Characteristics of TINY cradle:
Improved design, superior materials, joyful colors;
Base in epoxy powder coated steel, four swivelling double wheels with brake system and bumper function;
Telescopic column with gas spring, adjustable in height for 25 cm, controlled by handle and rear release lever;
Ring cradle frame and platform entirely made of plastic material with integrated front and rear handles;
Transparent plastic material cradle with possibility of inclination in both directions.
Benefits offered by TINY cradle:
Improved maneuverability due to the four swiveling double wheels;
High level of safety and comfort due to the brake system with bumper function;
Pleasant touch and easy to clean, due to the materials it is made of and to the design without sharp edges and with rounded corners;
Completed with a padded mattress with washable cover, class 1M of reaction to fire.
SPECIAL:
Remarkable benefits when the TINY cradle is used together with the premium new-born mattress START MATT.
Dimensions:
Width 850 mm;
Height 970 mm;
Depth 545 mm.