Inspire general ward bed
Manufacturer: Favero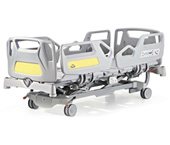 The INSPIRE range of hospital beds are designed to address every area of clinical risk and to ensure that patient care comes naturally and effortlessly. Their features are easy to understand and to use, and they bring multiple benefits to caregivers and patients, in every action.

INFECTION CONTROL against germs and bacteria, through:
unique patented removable side rails - designed to prevent cross contamination;
all surfaces are treated with Microban® antibacterial protection, which ensures extensive control against cross-contamination of areas difficult to reach and also for areas most frequently touched;
removable plastic monocoque mattress platform;
easy to clean surface.
SAFETY for the patient, through:
reduced height from the floor;
"up&down" system;
side rails with hydraulic high fall prevention system.
ERGONOMICS for the patient and the user, through:
"easy exit" function;
ergonomic handles.
General features of the INSPIRE BEDS:
removable side rails of the bed by one single touch of a button, for cleaning;
safe and easy fixing of side rails with no risk of possible mistakes, always providing safety for patients;
one-piece mattress platform moulded from recycled PE;
the caregivers can quickly unlock the board with one hand and with the other hand can remove the board;
the head and legs supports can be locked or not, according to patient's clinical situation;
removing the head and legs supports allows direct access both to patient and to platform, for easy cleaning;
a single touch of the height button allows the nurse to adjust the height of the bed easily and safely;
due to the particular shape of the bed boards, the patient can easily lift himself using the handle;
extra low height, to ensure patient safety when in bed and during mobilization, reducing the risks of falling;
provided with an integrated control system, located on the bed boards, in order to guarantee an easy access to all the bedís functions, both for the medical personnel and patient;
equipped with an alarm system, in case the cable is not plugged in.
The unique design of the INSPIRE BED range provides safety, comfort, independence, mobility and, especially, contamination prevention, both for the patients and the medical personnel, during the entire period of hospitalization.